When the summer sun turns up the heat in Israel, families with kids seek delightful ways to beat the warmth and keep young ones entertained. Fortunately, the country is brimming with exciting options that promise to keep everyone cool, smiling, and creating lasting memories. Here's a collection of family-friendly activities to turn scorching days into unforgettable summer adventures:
---
---
Things to Do in Israel's Hot Summer

:

Soreq Cave

The Sorek Stalactite Cave, also known as the 'Avshalom Cave'; is one of many things to do in Israel's hot summer. It is a stalactite cave located in the Judean Mountains, about three kilometers east of Beit Shemesh, in the heart of a nature reserve on the western slopes of the Judean Mountains, near the Sorek River. Although the cave is not among the largest stalactite caves in the world, it is rich in various stalactites and stalagmites.
---
---
The stalactites in the Sorek Cave began to form about five million years ago! As a result of the contact of water with carbon dioxide, a kind of acid is created that dissolves the rock, and remnants of the limestone accumulate on the ceiling of the cave as they drip and harden – hence the stalactites. The solution reaches the ground and gets there in an upright pile – hence stalagmites. When the stalactites and stalagmites connect – pillars are formed. But the idea is that the cave is one of many things to do in Israel's hot summer.
Gan Hashlosha National Park
Gan Hashlosha National Park is also one of many things to do in Israel's hot summer. The park is also known by its Arabic name Sakhne. It is located between Beit Alfa National Park and Kibbutz Nir David. The park has naturally warm water where visitors can swim all year.
Kayaking and Rafting on the River Jordan
ATVs at the Golan Heights
Another great option is doing some ATV or Jeeping at the Golan Heights. During the tour, you can jump into abundant natural springs. There are various options for ATV operators. Please get in touch, and while we are private touring, I can combine a lovely couple of hours of ATV or a short Jeep ride with an opportunity to jump into the Jordan River.
---
Jeusalem ATV Tours
---
Take a Dip In the Cool Dan River
Another one of the many things to do in Israel's hot summer is jump in one of the sources of the Jordan River. In other words, the Dan River. It's cold in a hot summer like Israel. It will for sure cool you off. The best way is to go to Kibbutz Dan; it's free. Then find a place to park as close as possible to the stream, and there you go. The big plus is that usually there aren't lots of people, especially if it's in the middle of the week.
---
---
Splash into Aquatic Fun:
Water parks are your family's ultimate oasis during the hot summer months. Israel boasts a variety of water-themed attractions like the Meymadion Water Park in Tel Aviv and the Luna Gal Water Park in the North. From thrilling slides to lazy rivers and kiddie pools, these destinations promise endless splish-splashing delight.
Yamit Water Park
---
---
Explore Marine Marvels:
Cool off and embark on an underwater adventure by visiting the country's captivating aquariums. The Underwater Observatory Marine Park in Eilat offers a mesmerizing peek into the Red Sea's marine life. At the same time, the Coral World Underwater Observatory in Sharm El-Sheikh invites kids to marvel at colorful fish and coral reefs without getting wet.
---
Aquariums in Israel
---
Cultural Immersion Indoors:
Take your kids to interactive museums like the Bloomfield Science Museum in Jerusalem or the Children's Museum in Holon for a dose of culture and history away from the heat. These engaging venues blend education with entertainment, ensuring a delightful experience for young minds.
---
Things to Do in Jerusalem with Kids
---
Ice Cream Escapades:
Treat your family to a delightful adventure of ice cream sampling. From bustling city centers to serene coastal towns, Israel is dotted with ice cream parlors offering an array of flavors to satisfy every palate. It's a sweet way to cool down and indulge in some summer fun.
---
Best Ice Cream in Tel Aviv
---
Beach Bonanza:
Embrace the sun by hitting Israel's stunning beaches with a twist. Opt for beaches that offer shaded areas, calm waters, and kid-friendly amenities. Consider Hilton Beach in Tel Aviv, Mosh Beach in Eilat, or Dor Beach near Haifa for a fun-filled day of sandcastle building, beach games, and refreshing dips in the sea.
---
Achziv National Park
---
Indoor Playgrounds:
Indoor playgrounds and entertainment centers provide a respite from the heat while offering endless excitement. Check out venues like Sky Jump in Tel Aviv or Park Sacher in Jerusalem, where kids can bounce, climb, and play to their hearts' content in air-conditioned comfort.
---
Things to Do In Jerusalem With Kids
---
Nature Escapes:
Explore Israel's natural wonders without succumbing to the heat. Opt for early morning or late afternoon hikes in cooler temperatures. Explore family-friendly trails like the Ein Gedi Nature Reserve or embark on a cave adventure at stalactite caves like Soreq Cave or Avshalom Cave.
---
Ein Gedi Nature Reserve
---
Movie Magic:
Cool off in style by catching the latest family movies at one of Israel's modern cinemas. Many theaters offer kids' screenings with comfortable seating and air conditioning—a perfect escape from the summer sun.
---
---
Tel Aviv Planetarium
Whether you're a seasoned astronomer, a curious learner, or a family seeking an enchanting outing, the Tel Aviv Planetarium promises an unforgettable experience. It's a place where science and imagination converge, the wonders of the universe are illuminated, and the boundless mysteries of the cosmos come to life.
---
---
Picnics and Parks:
Escape to shaded parks for a laid-back picnic with the family. Explore green oases like Park Hayarkon in Tel Aviv or Yarkon Park in Jerusalem. These spots offer open spaces, playgrounds, and serene lakes, providing ample room for kids to play and parents to relax.
---
Parka in Tel Aviv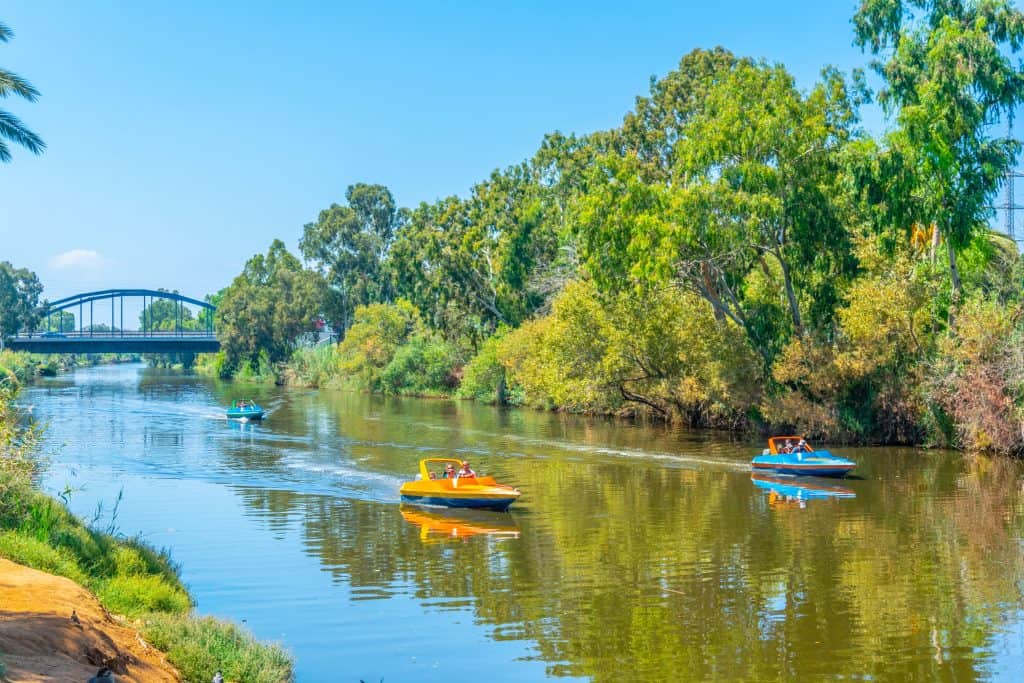 ---
Remember to Stay Hydrated and Protected:
No matter where your summer adventures take you, ensure your family stays hydrated by carrying plenty of water. Don't forget sunscreen, hats, and sunglasses to shield your kids from the strong summer sun.
From aquatic parks to cultural explorations and indoor fun, Israel has an array of options to turn hot summer days into cool memories for the entire family. Embrace the opportunities to create unforgettable moments, and let the kids' laughter be the soundtrack to your summertime escapades.