You landed at Ben Gurion Airport and finally got to your hotel in Tel Aviv. But what are the best things to do in Tel Aviv? So the first thing a wonderful experience in Tel Aviv is a delicious breakfast. And the best breakfast I can recommend to you is at Mashya Restaurant.
---
---
Mashya Restaurant Is a Great Place For an Amazing Breakfast
Mashya Restaurant is located on the entrance floor of the Mendele Street Hotel on Mendele Mocher Sforim Street, one of the most charming hotels in Tel Aviv. The hotel is located one minute from the Best Beaches of Tel Aviv in the center of the lively Tel Aviv entertainment; galleries. Quite a few hotels offer outside guests who do not stay at the hotel the option of having breakfast/brunch in the hotel dining room for a fee.
---
---
Coincidentally, I especially love the sumptuous breakfasts we have in hotels all over Israel. Because the variety and abundance are huge in Mashya, there is nothing like indulging in an invested breakfast with lots of small saucers; enjoy a selection of dishes with as many flavors and textures as possible. I want more than just omelets and salad! I fancy boutique cheeses, spreads, dips, smoked fish, good bread, and pastries.
Best Things to Do in Tel Aviv: Carmel Food Market
The Carmel Food Market is open every day of the week, except Shabbat (Saturday); and sells mostly food but also a variety of items such as home accessories, and flowers. Tuesdays and Fridays are the signature days at the market as several independent artists and vendors sell unique crafts, art, and jewelry at Nahalat Binyamin Artisan & Craft Market at the adjacent Street just next to it.
---
---
Best Things to Do in Tel Aviv: Rothschild Boulevard
Rothschild Boulevard is one of the principal streets in the center of Tel Aviv, Israel, beginning in Neve Tzedek at its southwestern edge and running north to Habima Theatre. It is one of the most expensive streets in the city, being one of the city's main tourist attractions.
Bike Rentals in Tel Aviv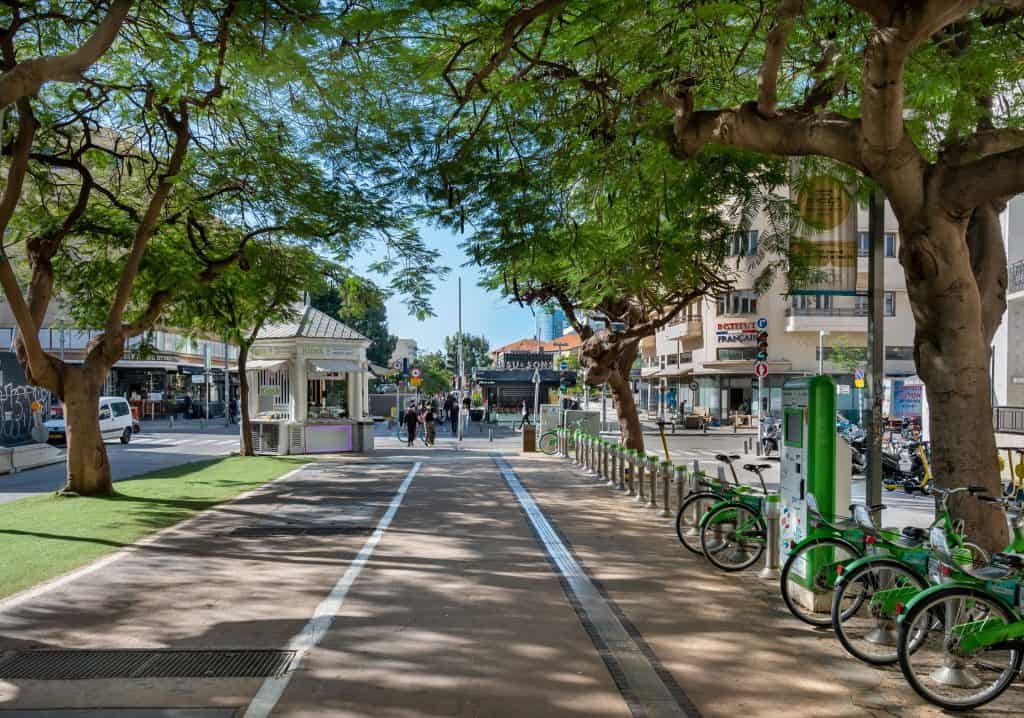 ---
For example, this is where Israel was declared in 1948. You can visit the place since now it's a lovely little Museum called Independence Hall. For sure worth visiting, and it does not take a long time.
---
---
Best Things to Do in Tel Aviv: Explore Old Town Jaffa
Another site worth visiting is Old Town Jaffa, another neighborhood in Tel Aviv today. But it's worth mentioning that Jaffa was here long before Tel Aviv was established in 1909.  So as you can imagine, the look and feel of Jaffa is very different from the rest of Tel Aviv. For example, the population there is more Arab than Jewish. The architecture dates back to the Ottman period, and you can truly feel you are in a distinct area.
---
---
The Old City is home to winding alleys filled with craft shops, art galleries, and stalls selling antiques and jewelry at the lively Jaffa Flea Market. Ottoman-era landmarks include the Clock Tower and St. Peter's Church, while the Ilana Goor Museum shows Israeli and international art. The area is also famous for its hip wine bars, creative Mediterranean dining, and seafood restaurants near Jaffa Port.
Jaffa Flea Market
The flea market in Jaffa is where various objects, clothes, and furniture items, new and used, are sold. The market is in Jaffa's compound of Amiad, Olei Zion, Yehuda Margoza, and Beit Eshel streets.
---
---
The market is crowded all year round and is a center of attraction for visitors, tourists, and those that look for bargains and second-hand items. Tour guides of Jaffa often pass through the market. The shops and stalls are usually permanent, but you can also find stalls of those who independently offer their wares – surplus old and new goods, antiques, nostalgia items, and scrap items.
---