Hi guys! Let's go for a little road trip via the Jezreel Valley! There you will find nice scenic roads next to famous archaeological sites. So what are we waiting for?! Let's go exploring! A nice road to head north to the Jezreel Valley is either HWY 6 or driving along the coastline using HWY 2.
In my opinion, both are comfortable and have nice views. Highway 6, also known as the Trans-Israel Highway or Cross-Israel Highway, is Israel's major electronic toll highway. So using it to get to the Jezreel Valley will undoubtedly grant you a cross-country view. If you will come all the way from the south; cruising on the HWY would certainly show how diverse this country is in more ways than one.
---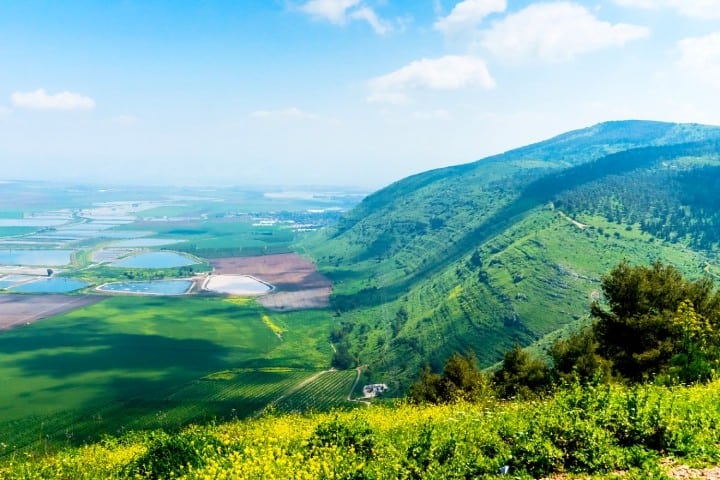 ---
A Road Trip Via the Jezreel Valley: Route 667
Another nice scenic 28 km ride is on route 667, called "Nof HaGilboa Road." You should stay on Road 675 near Kibbutz Jezreel. Then turn right onto Road 667. You can see the summer ski resort "Ski At the Gilboa" there. Now, there are two options where to get off. I would ride the excellent road to HWY90. Then, you can turn south and head back to your hotel in Tel Aviv or Jerusalem and drive along HWY90, seeing the mountains of Moab on the Jordanian side and the Dead Sea. You can get off HWY90 and use Alon Road if you like exploring.
---
---
A Road Trip Via the Jezreel Valley – Allon Road!
Allon Road is the name given by Israel to Routes 458, 508, and 578 in the West Bank, running roughly south-north along the eastern watershed of the Samarian and Judaean Mountains between Highway 1 near Kfar Adumim east of Jerusalem and Highway 90 at Mehola in the central Jordan Valley.