Jezreel Valley
Ultimate Guide
The fertile plains of the stunning Jezreel Valley have been at the center of fascinating historical and religious events still known today. As you look over the strikingly flat valley with its myriad of colors, you can pause to contemplate what millions of people throughout thousands of years thought as they stared at the same scene. The Jezreel Valley, known in Hebrew as Yizre'el and in Arabic as Zir'en, gets its name from the ancient city of Jezreel, which was named for the Hebrew word meaning "God sows." Long ago, this valley once acted as a channel to allow the Mediterranean Sea to connect to the Sea of Galilee all the way to the Dead Sea. Obviously, time has changed the geology of the region and that is no longer the case. However, this long-lost channel left behind a rich valley that still acts as the region's breadbasket today.
Jezreel Valley
Hot Air
Balloon Ride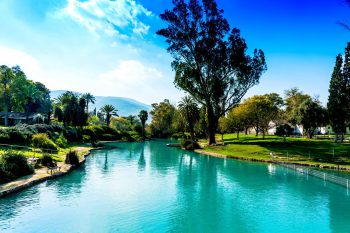 The history of the Jezreel Valley dates back to 4500 BCE and has been a location of continuous settlement throughout the rest of time as we know it. As it was easy to traverse, many people from Africa, Asia, and Europe passed through the valley, made it their home, and fought in vicious battles. The biblical cities noted in the valley include Jezreel, Megiddo, Beit She'an, Shimron, and Afula. Here, the famous Battle of Megiddo took place, and it is here that it is thought Armageddon will take place in the future. Ownership of the valley traded hands many times over the centuries until the American Zion Commonwealth purchased the land to re-establish the Jewish people in Israel, which they soon did with settlements.
THINGS TO DO IN THE VALLEY
Given its central location and bountiful land, the Jezreel Valley is surrounded by important historical and religious sites. To the west, you will find Megiddo's ancient fortress city, which is now a UNESCO World Heritage site famous for its surprising layers of various civilizations and its fascinating war history. To the east, you will find Beit Shean and Mount Tabor. Beit Shean is a well preserved archaeological park that features ruins from the Roman and Byzantine eras. Mount Tabor is also considered one of the possible locations of the Miracle of Transfiguration. In addition to these landmarks, the valley is also a great natural beauty where you can hike, bike, and even enjoy hot air balloon rides.