Dizengoff Center Shopping Mall is a great place to do Some shopping. Since it is located on the corner of King George St and Dizengoff lies one of the biggest shopping malls in Tel Aviv. The shopping mall has around 420 stores; one movie theater; lots of restaurants; an internet cafe; a design center holding exhibitions from around the world (Soho). Also, they have specialty stores like Comic books; video games, gadgets; stamp-collecting, posters. And on top of it all, they have a rooftop swimming pool; two gyms, and an arcade. The mall is divided into two parts and straddles both sides of Dizengoff Street with the two parts linked by skywalks and underground passages.
---
---
Moreover, the mall also hosts weekly events. Every Friday (except for Jewish holidays) the mall hosts the "Food Fair", Israel's largest food festival; with foods from a large variety of cuisines. On Thursdays and Fridays, it hosts a designer's boutique. Which includes fashion and jewelry from 40 designers. Also on Thursdays and Fridays, it hosts an "Alternative therapies fair".
---
---
Lastly, two towers were built upon the mall – a residential tower above the northern part of the mall commonly referred to as the "Dizengoff Tower". And an office tower above the south-western part of the mall commonly referred to as "Top Tower". The mall also has a big underground parking lot.
Dizengoff Center Shopping Mall: Two Little Squares Worth Visiting
Nearby, there are nice squares worth checking out. First is Habima Square, where the Habima National Theatre is located. Second, is Dizengoff Square, just up Dizengoff St. In both squares, you have places to sit and little cafes where you can just relax and enjoy a nice rest.
Best Shopping Malls in Tel Aviv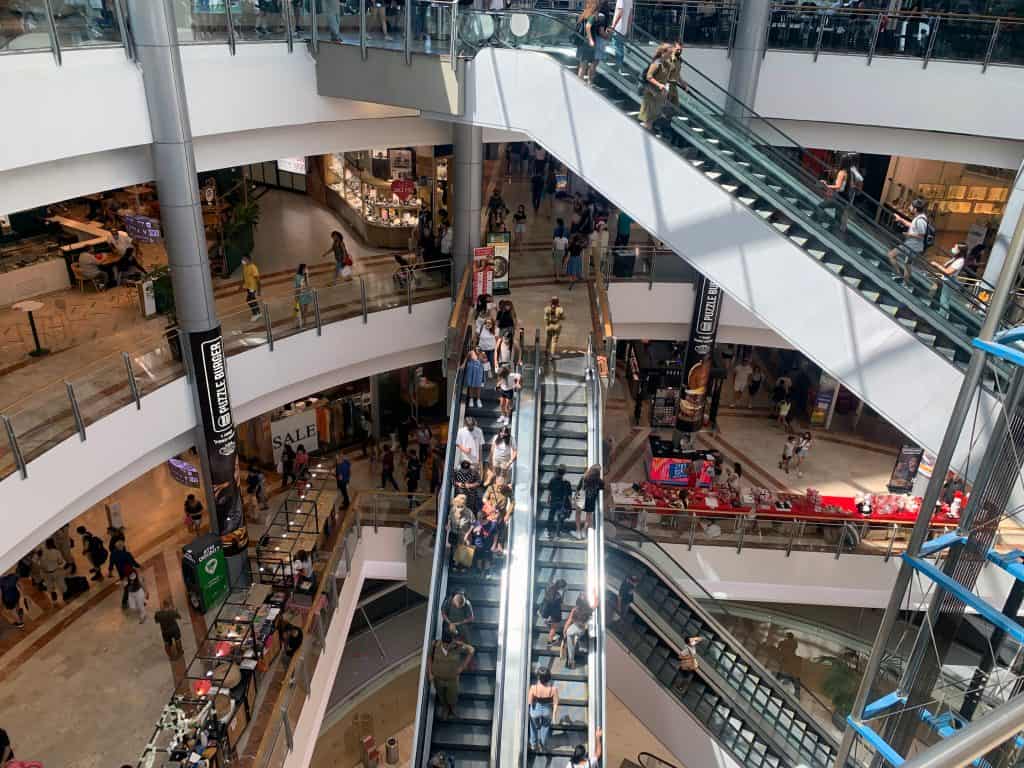 ---
After the Holocaust was over, when hundreds of thousands of displaced Jews were looking for a place of refuge, next to the National Theatre in 1946, a big protest was held against the British government policy in Palestine. And especially against the White Paper of 1939. For more about this topic read my post the Best Places to Shop in Tel Aviv.
---
---
Today Habima Square stands tall, one of the famous landmarks of Tel Aviv. I refer to the famous statue of Menashe Kadishman, Uprise. Another impressive work of his can be found in Yad Vashem in Jerusalem at the Family Plaza. Also, you can find buildings that were designed in the International Style. But I guess the best example for that would be around Dizengoff Square.
Tel Aviv has a collection of over 4,000 buildings built in the International Style in the 1930s. Many Jewish architects who had studied at the German Bauhaus school designed significant buildings here. So a large proportion of the buildings built in the International Style can be found in the area planned by Patrick Geddes. Especially north of Tel Aviv's main historical commercial center. And In 1994, UNESCO proclaimed Tel Aviv as a World Heritage Site, describing the city as "a synthesis of outstanding significance of the various trends of the Modern Movement in architecture and town planning in the early part of the 20th century.
---
---