where are the best local restaurants in Israel? Well, there are some that are already turned into famous places for decades and decades while some were recently opened. In this post, we will cover all these and more! So let's start with Azura restaurant! For sure one of my favorite places to get some good local food. In fact, Azura has today two restaurants with almost identical menus.
---
---
The first was opened a long time ago in Jerusalem in the 1950s, perched in Machne Yehuda Market. While another Azura restaurant was recently opened in Tel Aviv at Mikve Israel 1 St. In both you'll find the ultimate Hummus freshly made right there. Also, I recommend trying the beef sofrito and their specials that are dished out every Friday at noon! Don't come too late you'll be left without any food.
Best Local Joints in Israel: Hakosem
For sure Hakosem is one of my best local joints in Israel! Whether it's a nice and greasy spicey shawarma or the ultimate falafel that was just made for you with lots of herbs that gives the falafel this nice green color; both are the best thing you can in a piece of pita bread in Tel Aviv. I take all my private tours there for a quick lunch if they feel like it. If not, obviously there are lots of other options! Another dish that they offer is Sabich which is worth trying!
---
---
Best Local Joints in Israel: Dok Restaurant By The Doktor Bros.
Dok Restaurant, the new restaurant of the Assaf and Yotam Doktor brothers ("the brothers"), is currently opening at the beginning of Ibn Gvirol Street in Tel Aviv. In a small space laden with raw materials in the various stages of preparation and tools and constituting both a kitchen and a workshop, Chef Assaf Doctor presents an artisanal and unmediated dining and drinking experience of a fresh; local and creative cuisine. "Dok" is located next to the "Ha'Achim" restaurant, which serves contemporary Israeli grill cuisine; in the space where for the last eight years the first culinary venture opened by the Doktor brothers – "The Carpaccio Bar" has been located.
---
The Best Shawarma in Israel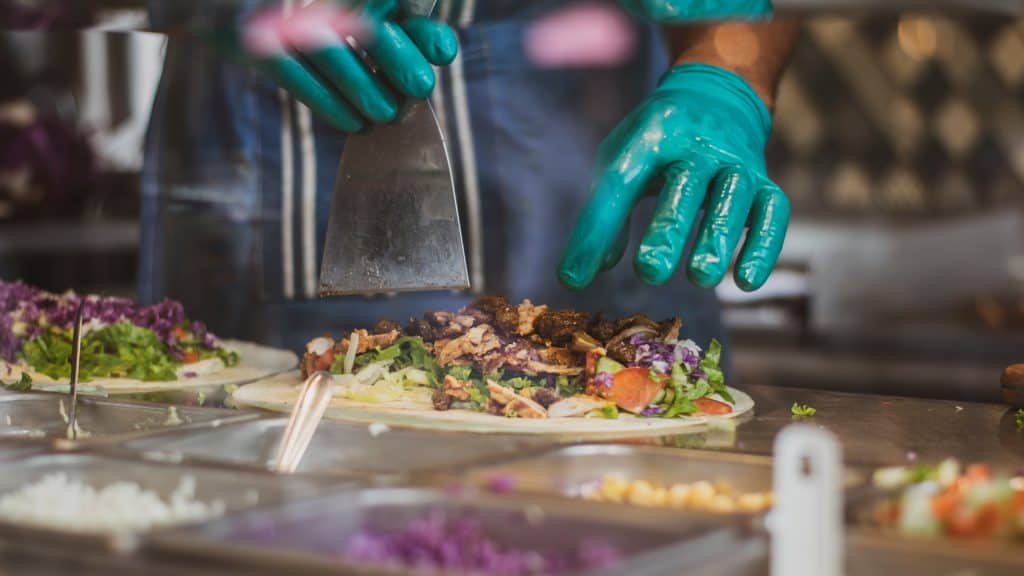 ---
The interpretation of contemporary local cuisine rests on the evolving insight in the culinary world around the world that to create modern food and culinary language one must first know how to go back to the origins, understand, explore, and control the origin of the dish in all stages.
During the establishment of the place, the Doktor brothers researched authentic local cooking methods (using fire and coals, cooking, preserving, pickling, gibboning, and fermenting); collected and collected raw materials (herbs, local small fish; fruits, vegetables, and olive oil) and joined carefully selected growers and workers in "old-fashioned" methods in terms of the nature of production and growth.
The result: a menu consisting of a limited number of fresh, creative; meticulous, and seasonal dishes that rely on local and unconventional ingredients that have been processed meticulously and handcrafted. While being aware of the raw material processes – both culinary and in terms of their impact on the environment.
---
---
La Régence – Fine Dinning – King David Hotel – Jerusalem
Another great location for a high cuisine restaurant is La Régence stocked away in the historic King David Hotel. The finest ingredients; the use of innovative cooking methods; and the precise execution rooted in classical cooking are combined by Chef la regance and his team at La Régence into novel and surprising perceptions of contemporary and exquisite Israeli Kosher cuisine. A cuisine that is avant-garde yet simple; locally rooted yet internationally oriented. The extraordinary tastes; textures; temperatures; colors; forms, and smells; resulting in dishes that playfully excite all the senses.
---
---
Chakra Restaurant/Bar – Jerusalem
Oh, yea! This place is my go-to restaurant in Jerusalem. It's not a cheap joint but affordable if you take into account the quality of the food served at Chakra. So that's why it is on my list of the best local joints in Israel. What I like about the place is that the service is always attentive. Also, the setting was charming and the food is exceptional! If Cocktails is your thing then you should go for the Green Park cocktail (Tanqueray, lemon, basil, and cucumber with sugar). A tangier version of a gin and tonic.
Now usually Salads in Israel are huge so you should share the endive and blue cheese salad with toasted hazelnuts, it's just great! And I recommend trying the asparagus and polenta as a second app. Now I am normally not a huge polenta fan (texture is too much like cream of wheat for me); but here it is made with fresh pureed corn–not cornmeal– which makes all the difference– sweet and yummy– and served with perfectly grilled asparagus and shaved cheese.
---
---
Don't Stop There!
To be honest, you can stop there, but you shouldn't! Because they have the best whole sea bass was stuffed with bouquet garni and grilled to perfection. And oh my gosh! The pistachio ice cream is a straightforward sinful dish. The restaurant is tucked in the back of a building overlooking a park. It's a magical setting– be sure to sit on the patio. So even Chakra is not cheap it's worth every penny.