The Tomb of Absalom is an ancient, monumental rock-cut tomb in the Kidron Valley in Jerusalem. Also known as Absalom's Pillar, the tomb is part of a burial complex on the Mount of Olives that also includes the Benei Hezir Tombs and Zechariah.
---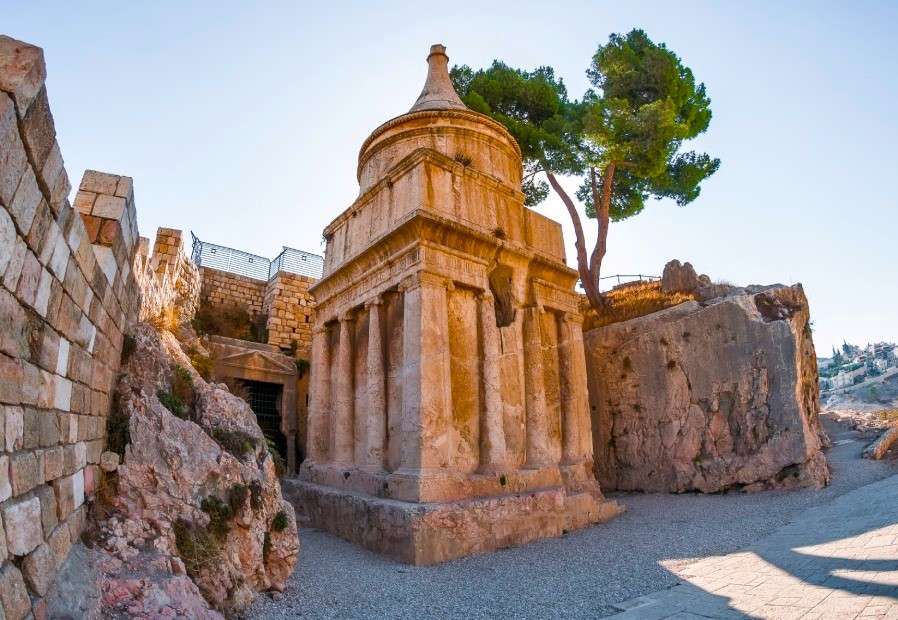 ---
First, it is worth noting that Jerusalem's Mount of Olives has been used as a cemetery by Jews for over 3,000 years. It is the largest Jewish cemetery in the world, with over one hundred thousand graves. The Tomb of Absalom is the cemetery's largest and most famous tomb.
Tomb of Absalom: The Structure of the Tomb
Due to its dome shape, Muslims named Absalom's Pillar Tantur Fir'aun (Pharaoh's Hat). The tomb is also a funeral monument (Nefesh) to the burial cave system, the Cave or Tomb of Jehoshaphat, behind it.
In addition, Absalom's Pillar is approximately 20 meters (66 ft) in height. It stands on a square base and has two distinct parts:  the lower part is a perfectly cubical monolithic block hewn out of stone, while the slightly higher upper part is built of neatly cut ashlars.
Mount of Olives Tour
---
Furthermore, the monolithic block is separated from the vertically cut rock of the Mount of Olives by passageways on three sides. The block is decorated on each side by pairs of Ionic half-columns, quarter-columns in the corners, and pillars in a distyle in antis arrangement—metopes, a Doric frieze of triglyphs, and an Egyptian cornice crown the four square façades.
---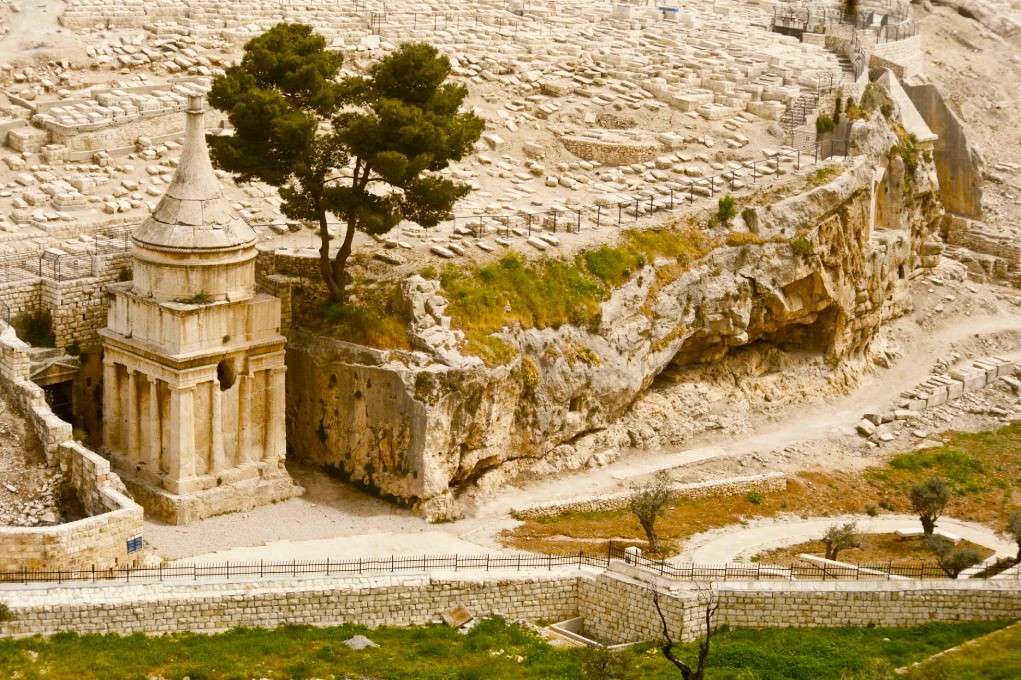 ---
The upper, ashlar-built part of the monument has three different shaped segments. The lower part is a square base on top of the Egyptian cornice. A round drum crowned by a rope-shaped decoration holds a conical roof with concave sides topped by a half-closed lotus flower. The upper part of the tomb represents the outline of a classical tholos similar to the contemporary Nabatean structures from Petra.