Nabi Musa, meaning "The Prophet Moses," is the name of a site in the Judaean Desert believed to be the tomb of Moses (according to Muslims). Also, it is the name of a seven-day-long religious festival celebrated annually by Palestinian Muslims, beginning on the Friday before Good Friday in the Orthodox calendar used by the Greek Orthodox Church. Considered in the political context of 1920 as "the most important Muslim pilgrimage in Palestine," the festival centered on a collective pilgrimage from Jerusalem to what was understood to be the Tomb of Moses near Jericho. A great building with multiple domes marks the mausoleum of Moses.
---
---
Nabi Musa "Tomb of Moses" tradition
The biblical book of Deuteronomy records that Moses "was buried in a valley in the land of Moab; opposite Beth-Peor" (east of the Jordan River) and that "no one knows the place of his burial to this day" (Deut 34:6). In Islam however, in a hadith narrated by Abu Hurairah (603–681), when Moses chooses the time of his death, he asks Allah to:
"let him [Moses] die close to the Sacred land so much so that he would be at a distance of a stone's throw from it."
In Islam, Moses' burial place is also considered to be unknown. However, local Muslim tradition places the "Tomb of Moses" at the maqam (Muslim shrine) of Nabi Musa ("Prophet Moses"). It is not known when this tradition first emerged. The Jerusalem -Jericho road was one of the primary routes used by Mediterranean Arabs to make a pilgrimage to Mecca. The shrine's site since the 13th century is located at what would have marked the end of the first day's march in that direction.
---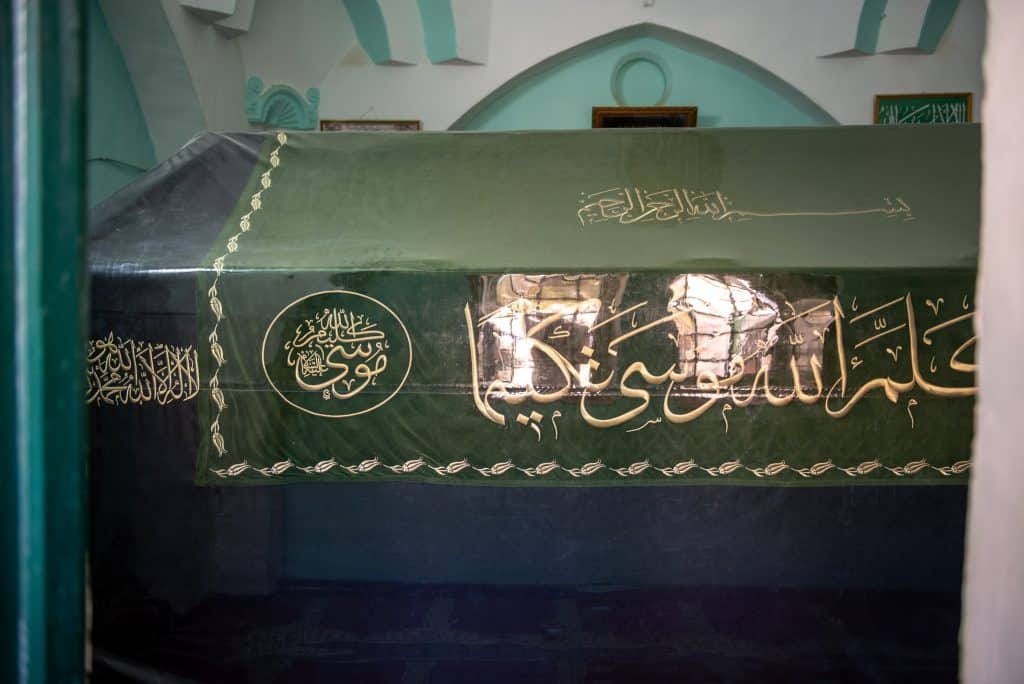 ---


Originally, it was simply a point from which pilgrims could rest, look across the Jordan Valley, catch a glimpse of Mount Nebo where (as suggested by the Hebrew Bible) the tomb of Moses used to be, and worship it from this spot. Even the Arab geographer Muqaddasi from Jerusalem, writing in the 1490s, admits that the tradition has only a weak chance of authenticity. Nabi Musa is still the most popular among several sites with similar claims.
---