Nestled near the picturesque Tel Aviv Port, Luna Park Tel Aviv is a vibrant and nostalgic amusement park that has delighted visitors of all ages for generations. So, with its colorful lights, joyful atmosphere, and various rides and attractions, Luna Park offers a timeless carnival experience that captures the heart and spirit of family fun.
---
---
A Whimsical Wonderland for All Ages:
Luna Park Tel Aviv welcomes visitors with its iconic entrance, featuring a spinning Ferris wheel and a lively carnival ambiance. Furthermore, as you step inside, you'll be transported to a world of excitement, laughter, and thrilling adventures.
---
Fun Things to Do with Kids in Tel Aviv
---
Classic Rides and Modern Thrills:
Moreover, the park boasts diverse rides and attractions catering to various tastes and ages. From adrenaline-pumping roller coasters that twist and turn to gentle carousels that evoke nostalgia, Luna Park has something for everyone. Here are some highlights:
---
---
Ferris Wheel: Take a leisurely ride on the Ferris wheel and enjoy panoramic views of the Mediterranean coastline and the city skyline. It's a perfect opportunity to capture memorable photos with your loved ones.
Bumper Cars: Engage in friendly family competition as you navigate bumper cars, trying to avoid collisions while laughing and having a blast.
Swinging Ship: Experience the sensation of floating on the high seas with the swinging ship ride that rocks back and forth in a thrilling motion.
Haunted House: For those seeking a spooky adventure, the haunted house attraction promises a fun and mildly spooky experience suitable for older kids and brave parents.
Kiddie Rides: Luna Park offers a variety of gentle rides designed for younger children, including mini roller coasters, merry-go-rounds, and teacup rides.
---
Fun Things to Do in Israel With Kids
---
Carnival Games and Treats:
In addition to the rides, Luna Park features carnival games where you can test your skills and win prizes. From tossing rings onto bottles to shooting basketballs through hoops, these games excite your visit. And, of course, no carnival experience is complete without indulging in classic treats like cotton candy, popcorn, and ice cream, all readily available throughout the park.
---
---
Visiting Luna Park:
Location: Rokach Blvd, Tel Aviv Port, Tel Aviv, Israel.
Opening Hours: Luna Park's opening hours vary, especially during holidays and seasons. It's advisable to check the official website or contact the park for the most up-to-date information.
Tickets: Admission to Luna Park is typically free, but you must purchase tickets or a wristband to access rides and attractions. Various pricing options are available to suit different preferences and budgets. For tickets! Here is a link to their website!
---
Tel Aviv Port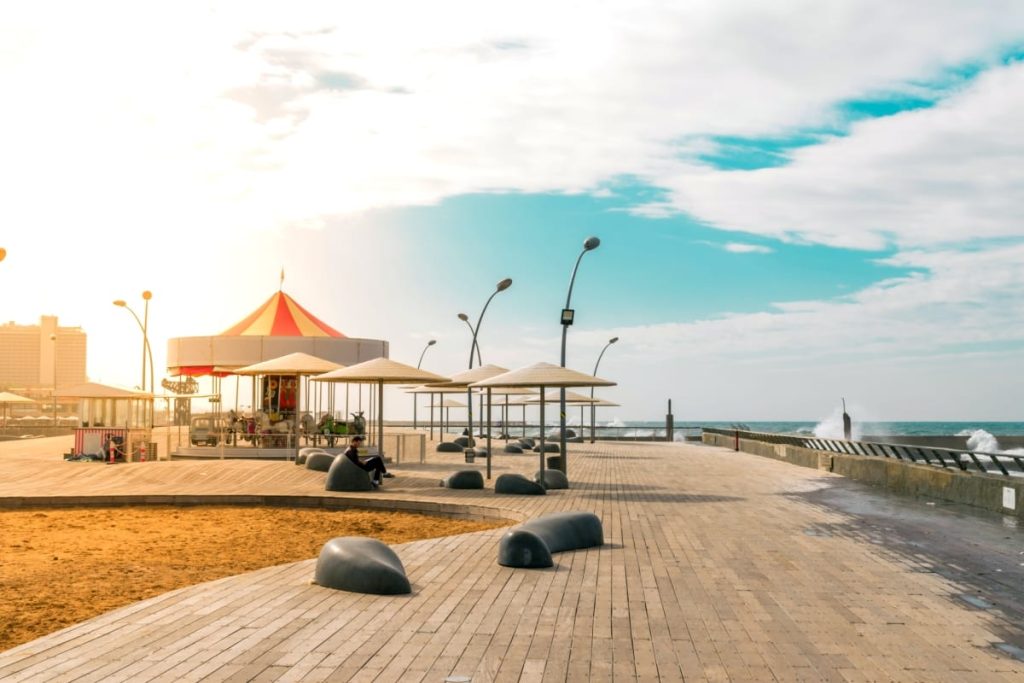 ---
Luna Park Tel Aviv offers a timeless and joyful experience that captures the essence of a classic carnival. Whether reliving your childhood memories or creating new ones with your family, visiting Luna Park promises laughter, excitement, and an unforgettable day of fun by the sea. So, gather your loved ones and immerse yourselves in the enchanting world of Luna Park Tel Aviv for an adventure you'll cherish for years.