The Stone of Unction, also known as the Stone of Anointing, is a large limestone slab that is believed to be the place on which the body of Jesus was laid down after being removed from the crucifix. It is also the place where he was anointed and wrapped in shrouds in the traditional way of being prepared for burial.

---
---
Where is the Stone of Unction?
So the Stone of Unction (Stone of Anointing) can be found right next to the main entrance of the Church of the Holy Sepulcher between the Golgotha (the hill of the crucifixion of Jesus), and the Tomb of Jesus. When visiting the site, pilgrims will sprinkle the stone with oil and wash it off with a cloth. It is believed that washing the oil off with a cloth soaks the cloth with the sanctity of the stone. Some pilgrims may place infants on the stone for a special blessing from God.
---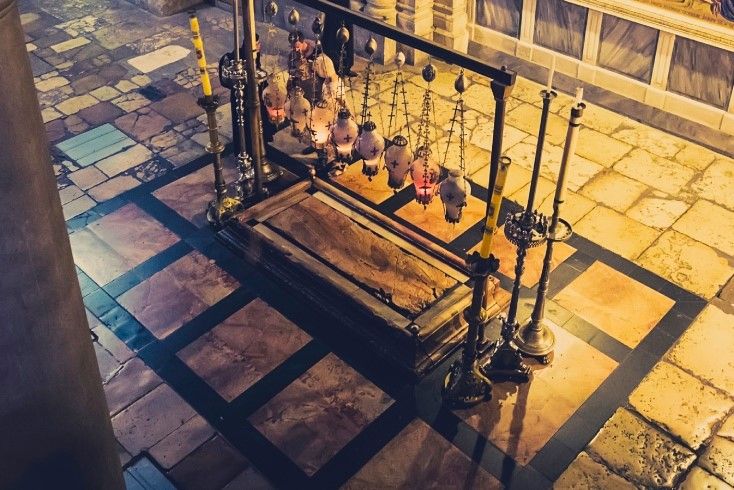 ---
Furthermore, originally the stone wasn't located in this area. It was installed here during the reconstruction of the Church after the 1810 CE fire that destroyed a significant part of the building.
Jerusalem Christian Day Tour
What does the Stone Look Like?
So the Stone of Unction is a flat stone slab with a reddish hue. The stone sits about a half meter (1.5 feet) off the floor and is surrounded by a stone encasement with decorative orbs at each corner. Tall candlesticks stand on each end of the stone. Beautiful lamps adorned with cross-bearing chain links donated by Armenians, Copts, Greeks, and Latins hang over the Stone of Unction.
---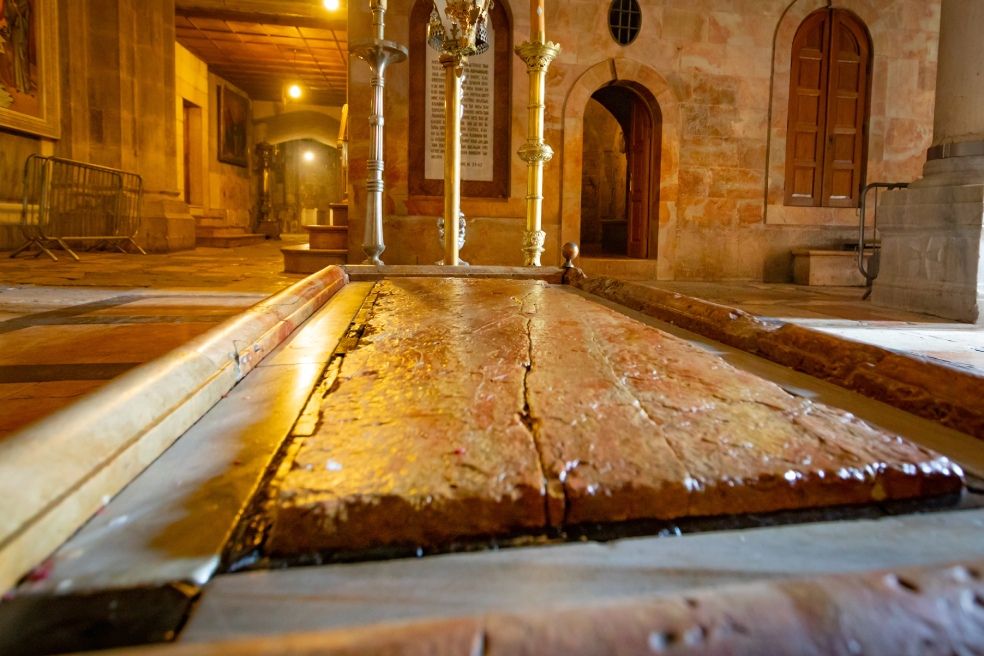 ---
Furthermore, the wall behind the Stone of Unction has tau cross-bearing red banners that depict the insignia of the Brotherhood of the Holy Sepulcher and beautiful blue balconies. There is a spectacular three-part mosaic set into the wall. The first section depicts the Descent from the Cross, the second part, the anointing of the body of Jesus, and the third part, the Burial of Jesus.