The Norman Hotel, located in the heart of Tel Aviv, is a luxurious boutique hotel that marries history and modernity, creating a sophisticated and charming oasis in the bustling city. Here's a glimpse of what you can expect when you step into this elegant establishment:
---
Hotel David Kempinski Tel Aviv
---
Timeless Elegance: The Norman Hotel is housed in two meticulously restored historic buildings, showcasing the architectural grandeur of Tel Aviv from the 1920s. Preserving its Art Deco design and details exudes an air of timeless elegance.
---
---
Norman Hotel Tel Aviv – Luxury Accommodations:
Furthermore, the hotel offers a selection of beautifully appointed rooms and suites, each designed to blend classic and contemporary aesthetics. Expect luxurious furnishings, high-quality linens, and modern amenities that ensure a comfortable stay.
---
---
Culinary Excellence: The Norman is home to two exceptional restaurants. Alena offers Mediterranean-inspired cuisine with a modern twist, while Dinings serves Japanese tapas and sushi in an intimate setting. Both establishments have received accolades for their culinary excellence.
---
---
The Library Bar: The Bar at The Norman is a cozy and inviting space where you can enjoy a wide range of cocktails, wines, and spirits. The bar is known for its expert mixologists, who can craft a drink tailored to your preferences.
---
---
Tranquil Courtyards: The hotel boasts two tranquil courtyards that provide a serene escape from the city's hustle and bustle. These lush outdoor spaces are perfect for enjoying a quiet moment, savoring a meal, or sipping a drink.
---
---
The Rooftop Pool: The rooftop pool at The Norman offers a breathtaking view of Tel Aviv's skyline. It's an idyllic spot to relax, dip, and soak up the sun while enjoying the cityscape.
---
---
Wellness and Spa: Norman's wellness and spa facilities are designed to pamper and rejuvenate. From massages to skincare treatments, it's a haven for relaxation and self-care.
---
---
Personalized Service: The hotel prides itself on providing personalized and attentive service to every guest. The staff is known for their warm hospitality and dedication to ensuring your stay is memorable.
---
---
Norman Hotel Tel Aviv – Prime Location:
Moreover, the Norman is in the heart of Tel Aviv, making it an ideal base for exploring the city. It's within walking distance of many cultural attractions, shops, restaurants, and beautiful beaches along the Mediterranean coast.
---
---
Cultural Experiences:
Lastly, the hotel often hosts cultural events, including art exhibitions and live music performances, adding an extra enrichment layer to your stay.
Tel Aviv Ultimate Guide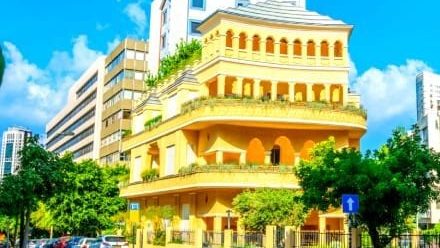 ---
So whether visiting Tel Aviv for business or leisure, The Norman Hotel offers a refined and luxurious experience that combines the best of historic charm with modern comforts. It's a destination where you can immerse yourself in the city's vibrant culture while enjoying the tranquility and sophistication of a world-class boutique hotel. For bookings, hit this link!
---