Guy of Lusignan, also known as Guy de Lusignan, was a significant figure during the Crusades and played a crucial role in the history of the Crusader states in the Holy Land. Both triumphs and challenges marked his life as he navigated the complex political landscape of the time.
Battle of Hattin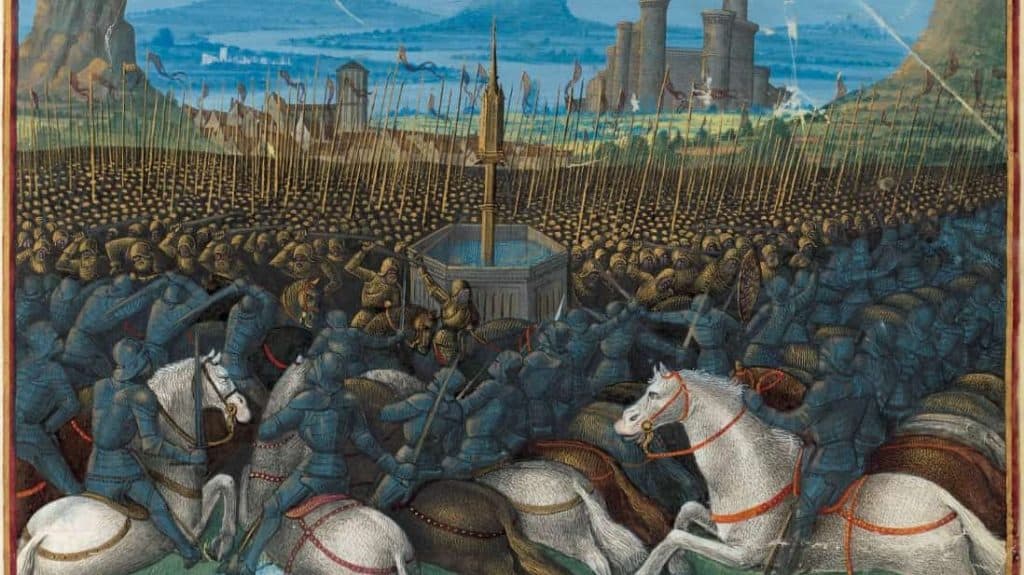 ---
Guy of Lusignan – Early Life and Background:
Guy of Lusignan was born around 1150 and hailed from the noble House of Lusignan, which was based in Poitou, France. His family held lands in western France and had a history of involvement in regional politics.
---
---
Participation in the Crusades:
Guy of Lusignan's most notable role came during the events of the Third Crusade (1189-1192). He joined the Crusade alongside other European nobles, including King Richard the Lionheart of England and King Philip II of France.
Guy of Lusignan – Marriage to Sibylla of Jerusalem:
Guy's life took a significant turn when he married Sibylla of Jerusalem, who was the daughter of King Amalric I of Jerusalem and the sister of King Baldwin IV of Jerusalem. Through this marriage, Guy became a claimant to the throne of the Kingdom of Jerusalem.
Rise to the Throne of Jerusalem:
Guy's fortunes changed when his wife Sibylla's brother, King Baldwin IV, died in 1185. Sibylla's son, by a previous marriage, Baldwin V, became the king. After the death of Baldwin V, Guy and Sibylla's son, who became Baldwin VI, was named the heir. However, Baldwin VI died in childhood, and Sibylla claimed the throne for herself, with Guy as her consort.
Raynald of Chatillon 
Challenges as King of Jerusalem:
Guy of Lusignan became the King of Jerusalem in 1186, but difficulties marked his reign. He faced opposition from powerful nobles in the Crusader states, including Raymond III of Tripoli, who disputed Guy's right to rule. Guy's kingship was also challenged by Saladin, the Muslim leader who aimed to retake Jerusalem from the Crusaders.
Third Crusade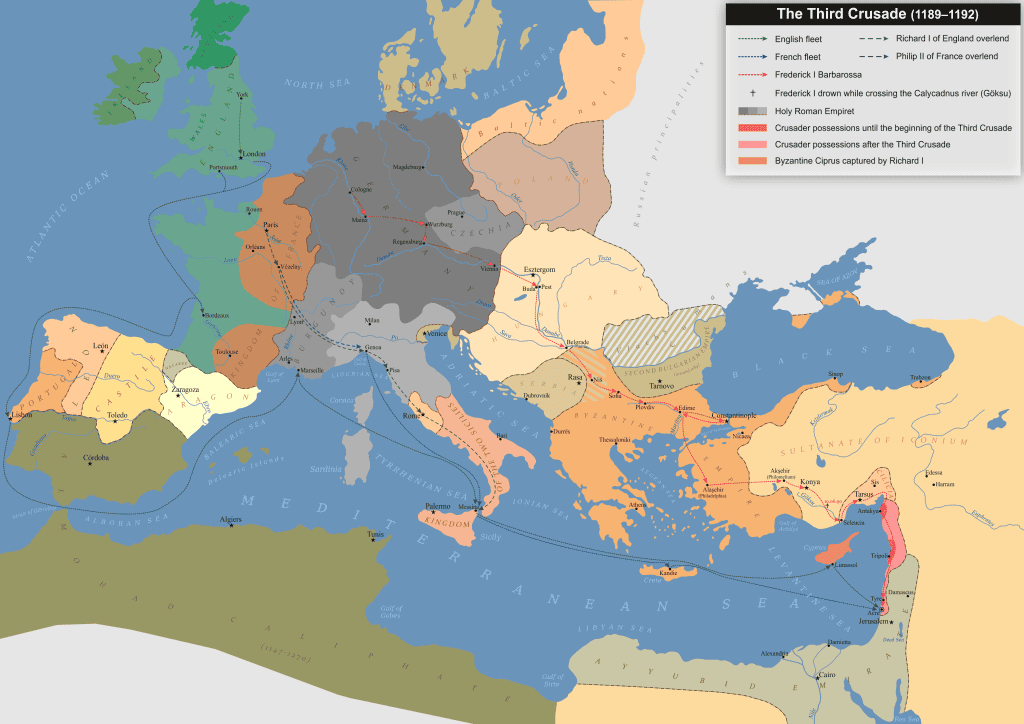 ---
Battle of Hattin and Loss of Jerusalem:
One of the defining moments of Guy's reign was the Battle of Hattin in 1187. Guy's forces, along with those of other Crusader leaders, suffered a decisive defeat at the hands of Saladin. Jerusalem fell to Saladin following the battle, marking a significant loss for the Crusaders.
Later Life: After the loss of Jerusalem, Guy of Lusignan continued to play a role in the politics of the Crusader states. He briefly ruled from the coastal city of Tyre and later spent time in Cyprus, where he established a new dynasty.
Guy of Lusignan – His Legacy:
Guy of Lusignan's rule as King of Jerusalem is remembered for the challenges and setbacks he faced during his reign, particularly the loss of Jerusalem. His life and experiences reflect the complex dynamics of the Crusades and the power struggles within the Crusader states. More about him on Wikipedia!