The Church of Saint John the Baptist is a Catholic church in Ein Karem, built at the site where Saint John the Baptist is believed to have been born. French archaeologist Félix-Marie Abel (1878–1953) thought the church probably dates back to the 11th century, with the lower courses possibly dating to the Byzantine period (4th-7th century).
---
---
Crusader Period
In addition, the original Crusader church of St. John the Baptist (also known as John BaHarim) was built above the traditional birth cave of St John. It was destroyed after the departure of the Crusaders. The remains were purchased by Franciscan Custos, Father Thomas of Novara, in 1621.
---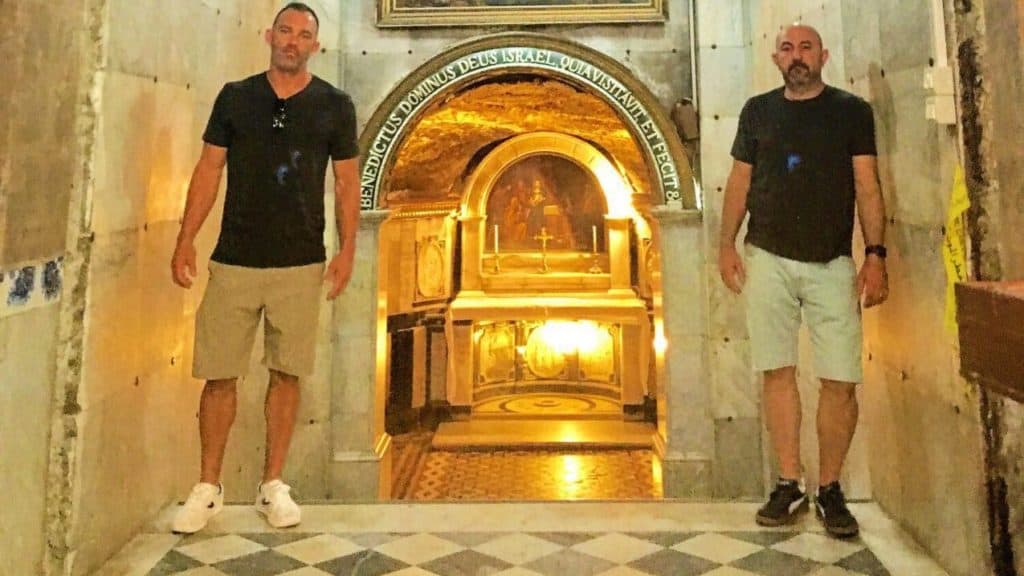 ---
Furthermore, the Muslim inhabitants forced the Catholics to abandon the site a few times during the 17th century and used the grotto and buildings as stables. But the Sultan issued a firman confirming Franciscan property over it in 1672, obtained through the influence of the Marquis de Nointel, the French Ambassador to the Ottoman Empire. However, the Franciscans only returned for good and rebuilt and fortified the site in 1693.
---
---
Church of St. John the Baptist: The British Mandate Period
In addition, during the British Mandate in 1941-42, the Franciscans excavated the area west of the church and monastery. During the excavation, they discovered Late Roman rock-cut chambers and graves, small Byzantine chapels with mosaics, and wine presses dating back to the 4th and 7th centuries.
---
Church of Visitation
---
Design and construction of the upper level of the structure began in 1938. They were completed by Italian architect Antonio Barluzzi in 1939, preserving all extant Byzantine and Crusader remains as part of the new shrine.
---
Ein Karem Neighborhood
---
In conclusion, the Church of Saint John the Baptist (John BaHarim) in Ein Karem, Jerusalem, is a must-visit for anyone interested in religious history, architecture, and spirituality. Moreover, its rich history and stunning architecture make it one of the most significant sacred sites in Jerusalem, and its peaceful and serene atmosphere makes it a place of pilgrimage for people of all faiths. So whether you're a pilgrim, a tourist, or a resident, the Church of Saint John the Baptist is an unforgettable experience you will treasure for years.