In the mosaic of Israel's history, the imprint of ancient Rome stands as a testament to a bygone era of grandeur, conquest, and architectural marvels. From bustling cities to monumental structures, Roman sites dot the landscape, offering a glimpse into the legacy of an empire that once spanned continents. Join us as we traverse through time to uncover the best Roman sites in Israel.
---
Christian Holy Land Four Day Tour 
---
Caesarea Maritima: Where History Resides:
Caesarea Maritima reigns as a true Roman gem on the Mediterranean coast. This ancient port city, with its sprawling amphitheater, impressive aqueduct, and intricate mosaics, is a testament to the architectural prowess of the Romans. As you wander through the ruins, you'll feel the echoes of chariot races, gladiatorial contests, and bustling marketplaces that once animated its streets.
---
---
Beit Shean: A Glimpse into Urban Life:
Beit She'an offers a glimpse into the urban heartbeat of Roman times. This sprawling archaeological site boasts monumental colonnaded streets, bathhouses, and theaters that vividly depict daily life during the Roman occupation. The city's strategic location made it a crucial regional trade and culture center.
---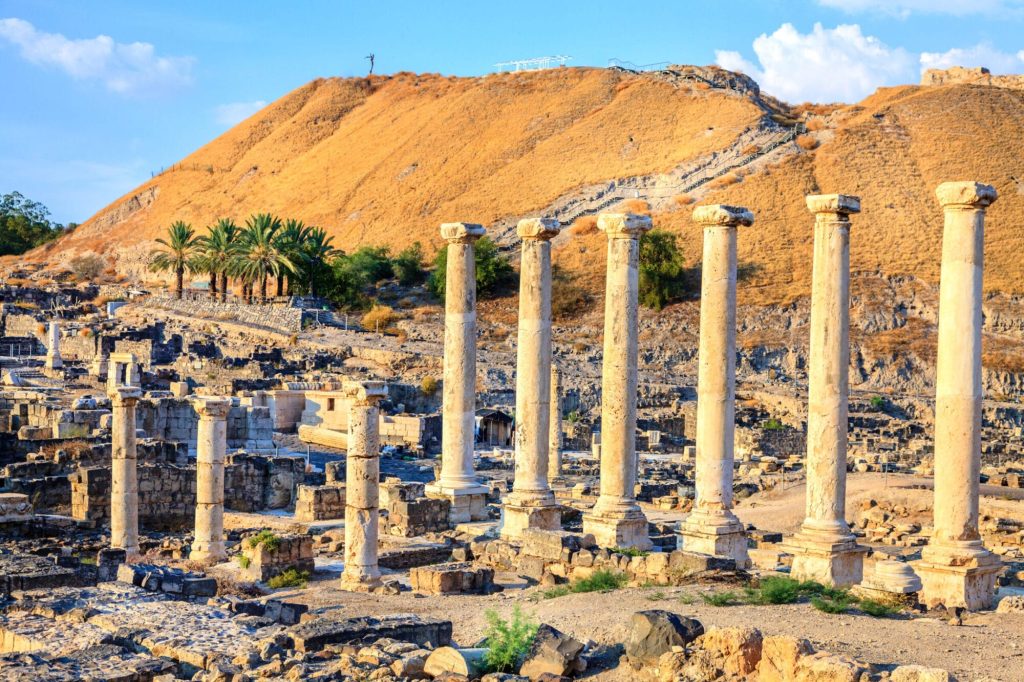 ---
Jerash of the East: Jerash, Pella, and Umm Qais:
While not within the borders of modern-day Israel, the ancient cities of Jerash, Pella, and Umm Qais—located in present-day Jordan—were once part of the broader Roman landscape. These well-preserved cities reveal Roman influence in architecture, infrastructure, and culture, providing a complementary perspective on the reach of the empire in the region.
---
---
Sepphoris: Where Artistry Thrived:
Sepphoris is nestled in the hills of Galilee and showcases Roman influence on art and architecture. Its ornate mosaics, including the famous "Mona Lisa of the Galilee," demonstrate the sophistication and craftsmanship that adorned Roman residences. The city's theater and intricate structures provide insight into integrating Roman aesthetics with local culture.
---
Sepphoris (Tziporri) National Park
---
Beit Alfa Synagogue: A Testament to Faith:
So, while primarily a Jewish site, the Beit Alfa Synagogue holds unique Roman artistic influence. Its mosaic floor, showcasing intricate depictions of Jewish symbols and scenes from daily life, reflects the harmonious coexistence of Roman creative techniques with Jewish religious expression.
---
---
Scattered Ruins and Timeless Legacies:
Lastly, the best Roman sites in Israel form a mosaic of history, each telling a unique story of conquest, culture, and the merging of worlds. These sites are more than just ruins; they are windows into a past that shaped the region's landscapes, societies, and identities.
---
---
So, as you traverse the remnants of ancient Roman cities, you're not just a visitor but a time traveler. You're walking in the footsteps of emperors, merchants, and everyday citizens who once shaped the world that we now inhabit. So, embark on this journey of exploration and discovery, where each stone tells a tale of an empire that left an indelible mark on the land of Israel.