The Negev Brigade Monument is a monument designed by the artist Danny Karvan, in memory of the members of the Palmach Negev Brigade who fell fighting on Israel's side during the 1948 Arab-Israeli War.
---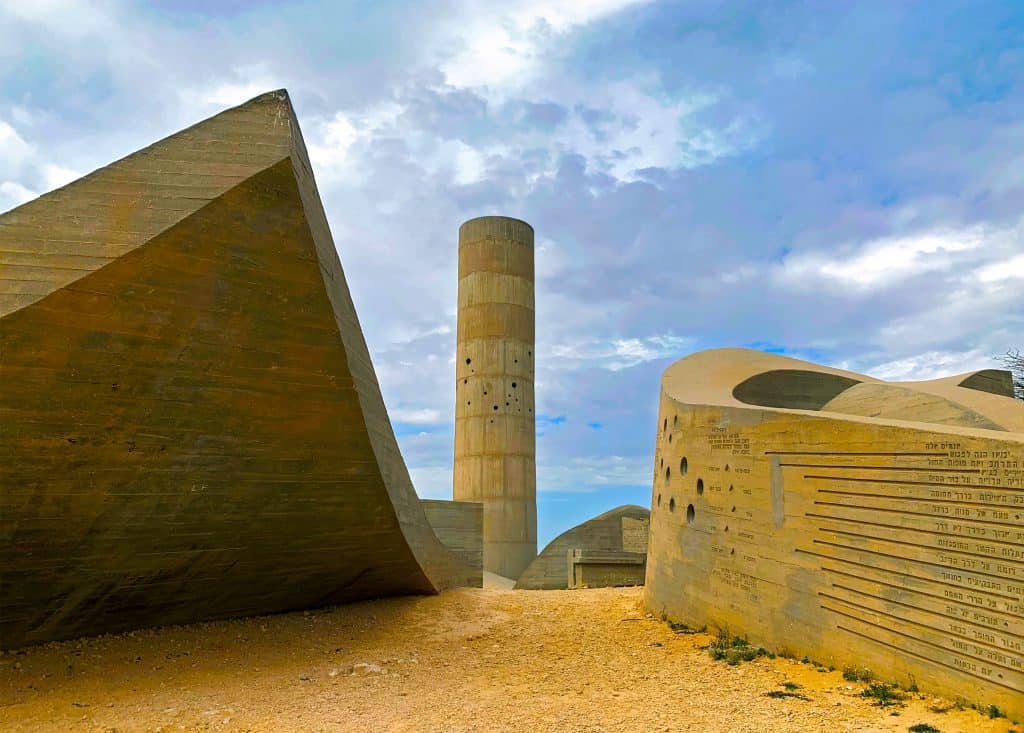 ---
The Negev Brigade Monument's most striking feature is its location. It is situated in the heart of the Negev Desert. The monument stands on top of a hill overlooking the city of Beersheba as a testament to the pioneers who braved the harsh conditions of the wilderness to establish a Jewish homeland in what was then British-ruled Palestine.
---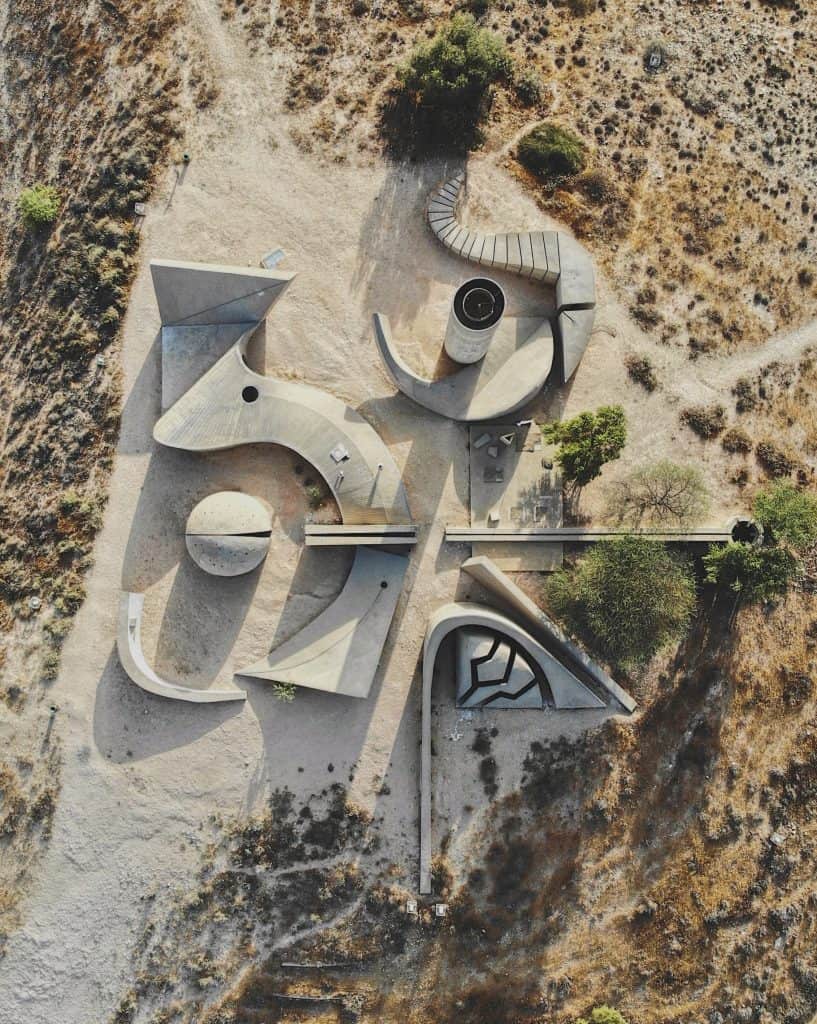 ---
By building the monument in this desolate and inhospitable place, Karavan and the monument's sponsors sought to emphasize the Negev Brigade's connection to the land and its commitment to building a vibrant and thriving society in this challenging environment.
The Palmach Museum
---
The Design of the Negev Brigade Monument
It combines elements of architecture and sculpture and is built in a brutalist style of exposed concrete. The structure incorporates 18 symbolic elements linked to the Palmach and the War of Independence – a perforated tower reminiscent of guard towers that received fire; an aqueduct with a small pool at the end reminiscent of the battle for the protection of the water pipeline to Beersheba; and canals simulating military communication canals. Engraved in the concrete are the names of the 324 soldiers who died in the war, the badge of the Palmach, diary passages from the soldiers, the battle registry, verses (from the Bible and songs.
---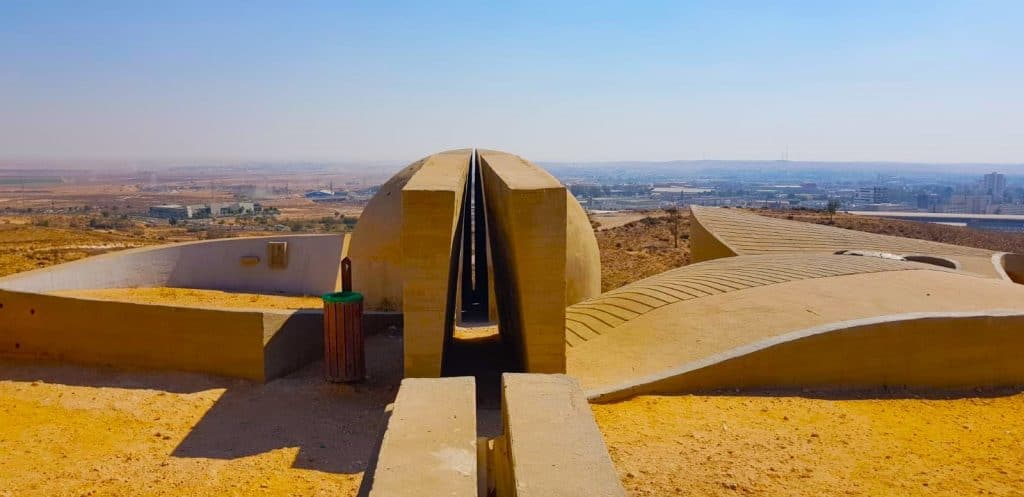 ---
The Negev Brigade was a unit of the Palmach. Before the Israeli Defense Forces (IDF) were founded. The brigade played a vital role in the 1948 War of Independence, fighting to secure the southern region of Israel against the invading armies of neighboring Arab states.
---
---
Comprised of Jewish immigrants and native-born Israelis, the brigade was known for its fierce determination and unwavering commitment to the Zionist cause. The monument is a unique work of art designed by the renowned Israeli sculptor Dani Karavan.
---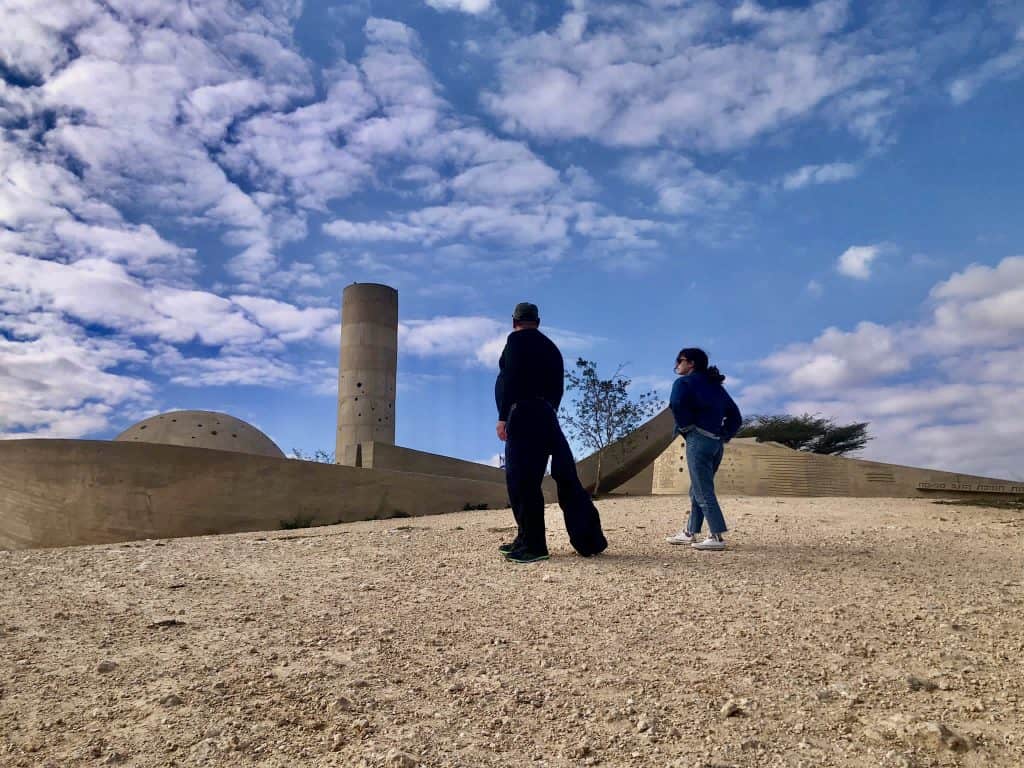 ---
Rising from the desert sands, the monument is a massive concrete structure that resembles a stylized fortress, with a central tower surrounded by a series of walls and ramps. Visitors approach the memorial and are greeted by a series of carved reliefs depicting scenes from the Negev Brigade's history. These reliefs, arranged chronologically, tell the story of the brigade's formation, battles and triumphs, and ultimate victory over the Arab armies.
---