Hiking the Red Canyon is a really nice little hike just on your way to or from Eilat. So to get there? Easy! The access to the Red Canyon is from Road 12 (Eilat-Mitzpe Ramon); about 20 km north of Eilat. From the road, there is a clear marking towards the Red Canyon.
---
---
There are two circular routes to the Canyon:
The first option is a shorter route, lasting about an hour and it concentrates on the valley itself.
But there is a second option which is longer (about 4-5 km) and takes about 2-3 hours. You'll get to enjoy a little more of the desert environment and ends in valley Sahni.
I recommend bringing a sufficient amount of water and snacks for a short break in the beautiful landscape.
Hiking the Red Canyon: The Short Hiking Trail
Duration of the route: about an hour.
From the parking lot, we will start walking on the path marked green; which takes us towards the main channel of Nahal Shani. On the sides of the stream, you can see a conglomerate. After a short walk, we will get to see some local rock formations like the Nubian sandstone, which is a spectacular red color. Its color source is in iron oxides that form the red hue (like rust). The sandstone is the result of the weathering of volcanic rocks that have worn out and crumbled. It is very common in the Nubian Desert in Sudan and Egypt, hence its name.
---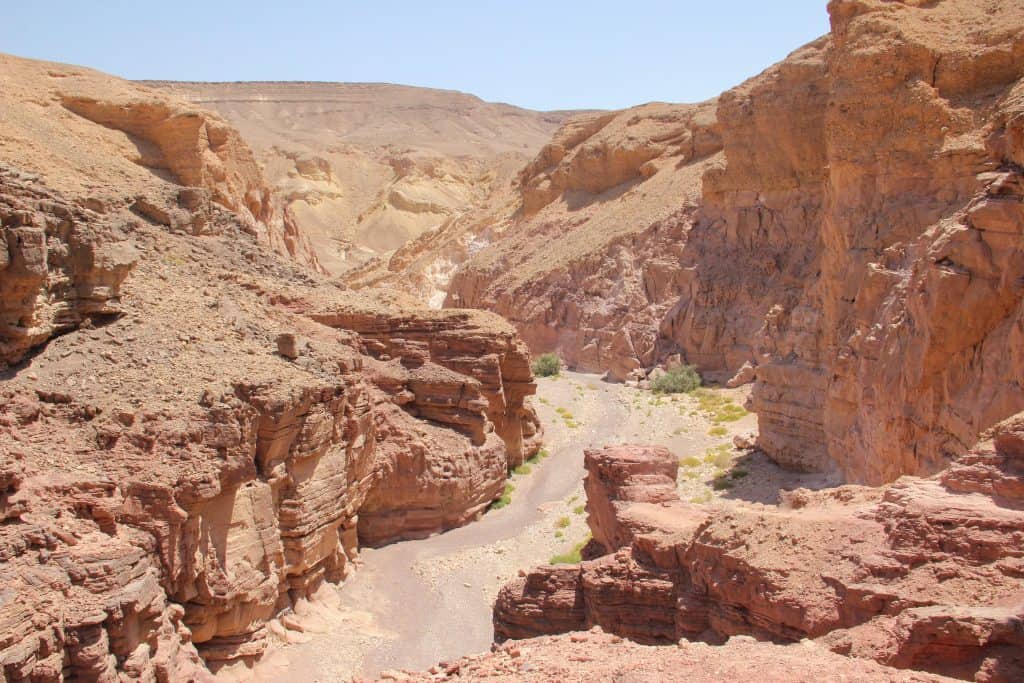 ---
On the sides of the stream, you can see desert vegetation that survives even in an almost rainless area like the Eilat Mountains. We will meet the bushes of the desert Retama, from the Medditarnean saltbush, Caper, and Negev Acacia tree, an important food source for the animals that roam this area.