Bullae are little lumps of clay that were used as sealings in antiquity. As Papyrus and Parchment were gradually replaced by clay tablets; bullae became the new encasement for scrolls of this new writing style. So Documents were split into two halves, separated in the middle by multiple perforations. The top half was rolled into a scroll and a chord would wrap this section tight; going through the perforations.
---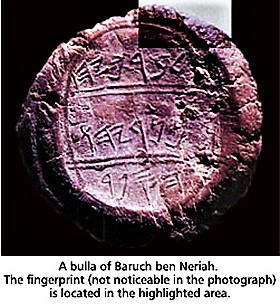 ---
So What Is a Bullae?


Then the clay was impressed on the chord to avoid unauthorized reading. And the bottom of the document was then wrapped around the initial scroll. Bullae found in dig sights that appear concave, smooth, and unmarked are thus the initial molds of clay placed around the interior scroll. A new chord was introduced around the document, and a bulla attached to the ends of the chord, on the knot, or around the chord in its entirety, forming a ring.
Private Touring the City of David
These outer rings could not guarantee unauthorized access to the documents, as one could slip out the parchment and replace the bullae "ring" with one they chose. So Designs were inscribed on the clay seals to mark ownership, identify witnesses or partners in commerce, or control government officials.


The later official seals were usually larger than the private seals. And could be designated seals of office, with inscriptions only identifying the office. In many cases, the fingerprints of the person who made the impression remain visible near the border of the seal in the clay. Various forms of bullae have been found in archeological digs.
A Rich Amount of Bullae Found in the City of David
Over the years, a rich assortment of bullae has been discovered in the City of David.  So it all started in the 1980s with Yigal Shiloh's excavation of Area G, located close to the peak of the City of David hilltop. In fact, among 51 bullae found at Area G was the first seal impression with a familiar biblical name found in the City of David. The name on the bulla, "Gemaryahu ben Shaphan," is mentioned in the Book of Jeremiah as being King Jehoyakim's scribe towards the end of the First Temple period (Jeremiah 36:10). This find brought the archaeologists to identify the buildings discovered at the site as part of the "Royal Quarter" of the city of Jerusalem during the First Temple period.
---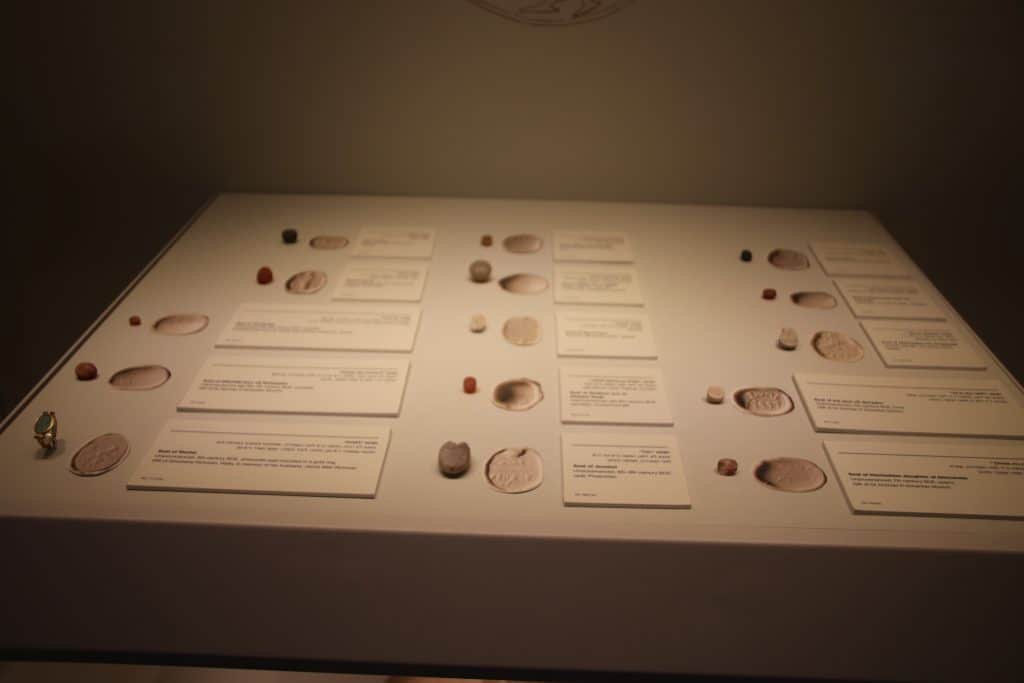 ---