The Beresheet's Rosemarine Restaurant captures the essence of the desert with a variety of delicious gourmet dishes made from fresh local ingredients. You can kick start your day with the restaurant's specialty dairy breakfasts, which present a thrilling blend of colors, tastes, and fragrances.
---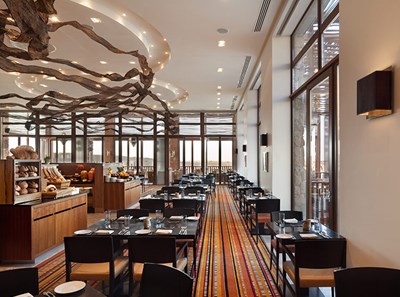 ---
Rosemarine Restaurant An Ideal Place to Dine
Then, after a day of delights or leisure, you can feast on a lavish dinner with the chef's menu of meat, fish, or pasta dishes brought to your table, as well as buffets offering a variety of soups, salads, and appetizers.
Surrounded by breathtaking vistas, this beautiful restaurant is designed to capitalize on its majestic desert setting. Its terraces appear to hover over the Negev Desert, highlighting the wonders of the Ramon Crater below and enhancing the already enchanting dining experience.
Opening Hours:
7:30am-11:00am
6:30pm-9:00pm
---
---
Perhaps you're a vegetarian? or maybe vegan even? Are you gluten or lactose-intolerant? Isrotel Hotels is committed to making sure all our guests stay happy and healthy at mealtimes. If you have food allergies or other dietary restrictions, please let the restaurant know about it when you arrive at the restaurant and they will be glad to help you with any dietary issues.
Sample breakfast dishes:
Vegan omelet (made with chickpea or lentil flour), either with or without herbs
A delicious vegan shakshuka with tofu instead of egg
A vegan egg-free vegetable frittata, made with soy milk
Oatmeal made with water or soy/almond/coconut milk
Vegan pancakes

Sample dinner dishes:
Pepper stuffed with bulgur and lentils, served in a spicy tomato sauce with herbs
Vegan Jerusalem mixed grill (based on seitan), served in a toasted pita/tortilla with an onion and sumac salad
Pasta with soy Bolognese sauce
Tofu schnitzel in a gluten-free breadcrumb crust served with French fries
Mushroom burger with black lentils served with roasted potato wedges
How to Get to Rosemarine Restaurant?
---