Hailed as the 'city that never sleeps,' Tel Aviv is all about hitting the beach during the day, dining out, and dancing the nights away. The city is home to an array of hotels, from five-star luxury retreats to casual, home-away-from-away stays. Here are some of our top picks:
The Norman
The Norman is a chic boutique hotel overlooking the charming King Albert Square on Nachmani Street. Set in two lovingly restored 1920s buildings, the hotel features well-appointed guest rooms and suites with en-suite bathrooms and modern amenities.
---
Newly Opened Hotels in Tel Aviv
---
Two of Tel Aviv's top fine-dining restaurants – The Norman and the Japanese-tapas-style, Dinings are based in the hotel, serving award-winning cuisine and fine wines from around the globe. The upscale Library Bar serves a variety of signature cocktails and other beverages in an elegant setting.
Deluxe facilities at the hotel include a stunning rooftop swimming pool, a charming citrus garden tucked between the two buildings, a state-of-the-art fitness center, and a fully-equipped wellness area. Free Wi-Fi access is available throughout the property, and guests can use free bicycles to explore the city. They can also enjoy valet service, a shared lounge area, and 24-hour room service.
Best Hotels in Jerusalem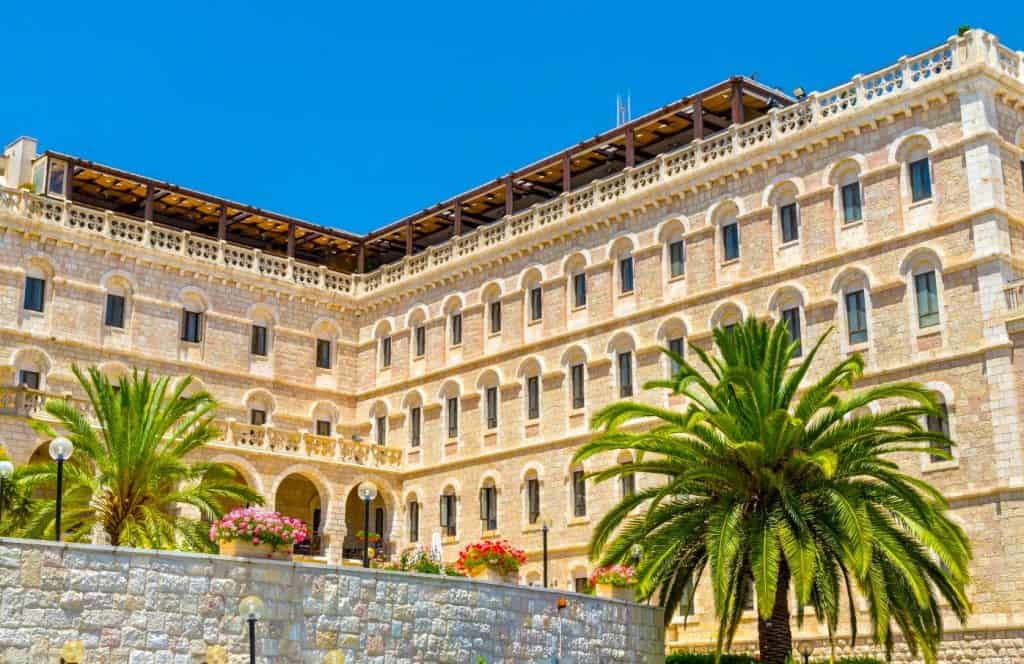 ---
The Norman is a short walk from the Independence Hall Museum and the Nachalat Benyamin Crafts Fair.
23-25 Nachmani Street, Tel Aviv, Phone: 6579441 https://www.thenorman.com/?utm_source=google&utm_medium=gmb&utm_campaign=general
The Jaffa
Old meets new at the exquisite Jaffa Hotel in Tel Aviv. Named after its old port neighborhood, the Jaffa is based in an ancient 19th-century French-built pilgrims' hostel and hospital that has been beautifully restored into an elegant Neo-Renaissance hotel.
---
---
History is echoed in the original Romanesque wing, which the hotel has kept as it was with its glorious archways, columns, and stained-glass windows. Sleek minimalist rooms boast lofty vaulted ceilings, spacious en-suite bathrooms with waterfall showers, and modern amenities such as air conditioning, flat-screen TV with satellite channels, and honor bars.
---
American Colony Hotel   
---
Relax over a drink in the lounge bar on the hotel's top floor, once a chapel. Enjoy a meal at Golda's, a deli-style restaurant in the historic courtyard. Kick back by the swimming pool and enjoy snacks and beverages from the pool bar. Treat yourself to a range of signature spa and beauty treatments at LRAPHAEL spa, or burn those calories in the state-of-the-art fitness center.
---
---
Guest services include a 24-hour front desk, personalized Guest Experience services, underground parking, valet services, and complimentary bikes to explore the neighborhood. Free Wi-Fi access is available throughout the property.
2 Louis Pasteur, Tel Aviv, Phone: 6803602 https://www.marriott.com/en-us/hotels/tlvlc-the-jaffa-a-luxury-collection-hotel-tel-aviv/overview/?scid=f2ae0541-1279-4f24-b197-a979c79310b0
Royal Beach Tel Aviv
Right across the road from the beach, Royal Beach Hotel Tel Aviv by Isrotel Exclusive is a contemporary high-rise hotel within walking distance of the historic old city and the Tel Aviv Museum of Art.
---
---
Stylish, well-appointed guest rooms and suites have en-suite bathrooms and modern amenities such as flat-screen TVs, minibars, and free Wi-Fi. Deluxe suites have spacious lounge areas, separate bedrooms, and access to a private lounge, and most rooms have balconies with beautiful views.
---
---
A New York City–inspired restaurant and bar serve globally-inspired cuisine, and a casual lobby bar is a perfect spot for a quick coffee before heading out to sightsee. High-end facilities include a digital art gallery, a covered outdoor pool, and a children's pool. There is also a sun deck where you can relax in the sun, a spa and traditional hammam, a fully equipped fitness center, and a business center.
Royal Beach Hotel Tel Aviv by Isrotel Exclusive is a short walk from the bustling Carmel Market and Nachalat Binyamin Street Market.
Address: HaYarkon St 19, Tel Aviv-Yafo, Israel, Phone: +972 3-740-5000, https://www.isrotel.co.il/isrotel-hotels/tel-aviv/%D7%A8%D7%95%D7%99%D7%90%D7%9C-%D7%91%D7%99%D7%A5-%D7%AA%D7%9C-%D7%90%D7%91%D7%99%D7%91/
The Setai Tel Aviv
The Setai Tel Aviv is an opulent Miami urban resort that offers luxurious accommodations, high-end amenities, and award-winning cuisine. Located in the heart of the ancient port city of Jaffa, the hotel is set within a beautifully restored historic compound, once a fortress and an Ottoman prison. The retreat is spread over five buildings of the former and historic Ottoman prison and police station and has been exquisitely transformed with contemporary touches and classic refurbishments.
---
David Kempinski Tel Aviv 
---
The hotel has 120 gorgeous guest rooms and suites with en-suite bathrooms, deluxe amenities, and breathtaking views of the ancient port and the Mediterranean Sea. Although only a stone's throw from the beach, there is a shimmering rooftop swimming pool and sun deck where you can relax in style.
---
---
The hotel's signature restaurant, Jaya, is a delicious dinner option with a menu that blends local Israeli food culture with the property's Turkish roots to create a uniquely Mediterranean cuisine. The dairy breakfast buffet is downright lavish, with kosher offerings like shakshuka and a vast assortment of salads, cheese, and eggs.
The Kishel Bar is a stylish spot to enjoy craft cocktails and a great international wine list with a robust selection of Israeli vintages.
Address: David Razi'el St 22, Tel Aviv-Yafo, 6802919, Israel, Phone: +972 3-601-6000, https://www.thesetaihotels.com/he-il/hotels/tel-aviv
Sheraton Tel Aviv
Located in a prime position on Tel Aviv's beachfront, Sheraton Tel Aviv is a modern, upscale hotel ideally placed to enjoy all of the city's top attractions. Overlooking the Mediterranean coastline from the Shlomo Lahat Promenade, Sheraton Tel Aviv has everything you need for a hassle-free stay from three chic restaurants and first-class facilities for guests to enjoy.
---
---
The hotel's refined guest rooms have stylish décor, en-suite bathrooms, and floor-to-ceiling windows with breathtaking ocean views. Three cosmopolitan restaurants serve a variety of Israeli and international cuisine. Surfside Seaview Restaurant is an excellent place for sumptuous breakfast buffets and sizzling steaks in the evenings. Deck 115 Pool Restaurant & Bar offers a relaxed venue for casual fare against a backdrop of the Mediterranean. Views and Manara Restaurant focuses on local Israeli culinary culture infused with vibrant Mediterranean influences.
---
---
High-end facilities at the hotel include an outdoor heated swimming pool with a sun deck and plenty of loungers to kick back and relax. A fully-equipped gym has free weights and strength equipment for working out during your stay, and a luxury spa boasts several treatment rooms and a steam room. Enjoy a range of treatments from Ayurvedic massages to body scrubs and couple's massages.