Step into King Herod's Palaces! Get to know the world of opulence and grandeur that defined the reign of Herod the Great. A ruler known for his architectural prowess, Herod left an indelible mark on history with his impressive palaces that adorned the landscape of ancient Judea. Join us on a journey through time as we explore the various palaces built by this larger-than-life monarch:
---
Herod the Great
---
King Herod's Palaces – Herodium Palace-Fortress
Perched atop a hill in the desert, the Herodium Palace-Fortress is a marvel of engineering and design. A fusion of palace and military stronghold, it featured luxurious living quarters, lavish gardens, and even a swimming pool. Its strategic location offered sweeping views of the surrounding landscapes.
---
---
Masada Palace
One of the more known of King Herod's Palaces is Masada! The palace at Masada stands as a testament to Herod's vision and determination. This cliff-top fortress overlooking the Dead Sea boasts elegant living spaces, mosaic floors, and a stunning bathhouse. The breathtaking views from Masada's terraces add to its allure.
---
The Dead Sea & Masada Tour
---
King Herod's Palaces – Caesarea Maritima Palace
On the Mediterranean coast, Herod erected a palace within the grand city of Caesarea Maritima. The palace showcased Roman-style architecture, complete with ornate courtyards, colonnades, and opulent rooms. It exemplified the blending of cultures and the architectural sophistication of the time.
---
Caesarea Ultimate Guide
---
Jericho Winter Palace
One of King Herod's Palaces is nestled in the oasis city of Jericho! This palace offered respite from the sweltering desert heat. With its lush gardens, frescoed walls, and ingenious water supply system, the Jericho Winter Palace reflected Herod's desire for comfort and luxury.
---
---
King Herod's Palaces – Kypros Palace
The Cypros Palace, located in the Judean hills, was a tribute to Herod's mother. Intricate mosaics, grand courtyards, and lavish living quarters characterized its grandeur. The palace's design paid homage to Herod's heritage and ambitions.
---
---
Alexandrium (Horcania) Palace
Named after Alexander the Great, this palace on the Mediterranean coast showcased Herod's admiration for Hellenistic culture. Its ornate architecture, spacious reception halls, and stunning sea views exemplified his dedication to creating spaces that combined luxury and aesthetics.
---
---
Antonia Fortress
While not a traditional palace, the Antonia Fortress in Jerusalem served as Herod's military headquarters and residence. Its strategic location overlooking the Temple Mount allowed Herod to control the city.
---
Jerusalem Old CIty Tour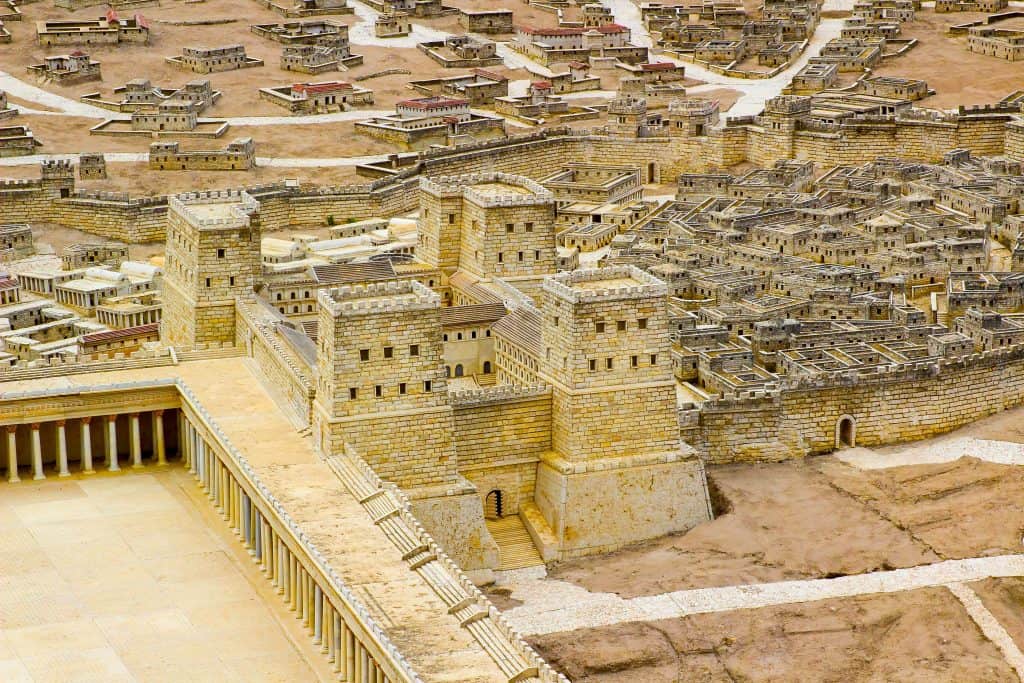 ---
Machaerus
One of King Herod's Palaces is now located in Jordan! While Machaerus was strategically significant, it also served as a place of respite and luxury for Herod. The palace within the fortress featured opulent living quarters, bathhouses, and courtyards where Herod could enjoy comfort amidst the stark desert surroundings.
---
---
Herod the Great's palaces were not merely structures but expressions of his power, legacy, and architectural prowess. Each palace told a unique story, reflecting his complex personality, vision for the region, and desire to leave an enduring mark on history. As you explore these remarkable sites, you'll journey back to an era of splendor and magnificence that shaped the landscape of ancient Judea.